Voici deux vidéos en stop-motion qui m'ont beaucoup plus. L'une est un spot de promotion pour le festival Bonnaroo au États-Unis, et l'autre une carte de voeux pour le groupe GDF Suez.
Outre le procédé du stop-motion qui est déjà (pour moi) une prouesse de patience et d'organisation, je suis très impressionné par le déploiement de moyens que ces vidéos ont suscité. Pour l'une il a fallu une quantité astronomique de bougies, pour l'autre la découpe de tous les plans à la main. Cerise sur la gâteau, ces vidéos sont accompagnées de making of nous expliquant la performance.
Bonnaroo festival

À voir avec des lunettes anaglyphes (celles rouge et bleu), sinon une version normale existe
Le making of
Electrabel
Le making of
Enfin, dernier thème de ce billet, les productions 3d anaglyphe nécessitant des lunettes rouge/bleu.
Si le spot vidéo de Bonnaroo utilise ce procédé, d'autres l'ont adapté au web. L'exemple du site de barcinski-jeanjean (ceux qui ont adapté PV3D à FIVe3D, VectorVision cf billet précédent) en est l'exemple parfait.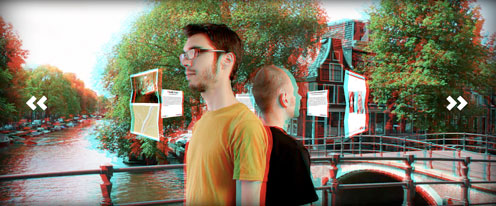 Voir le site de barcinski-jeanjean
Spot Bonnaroo par l'agence ghostrobot
Spot Electrabel par l'agence Famous